Posts for: October, 2017
By Sunshine Dentistry
October 26, 2017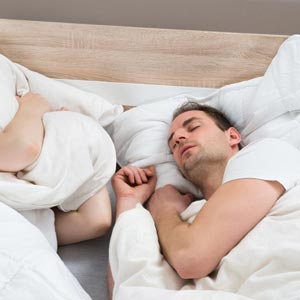 Sleep — you'll spend a third of your life in its blissful embrace. But it isn't a luxury: you need it as much as nutrition and exercise. An occasional bad night's sleep leaves you irritable and drowsy; a bad night's sleep every night could endanger your health.
One of the most common causes for chronic poor sleep is obstructive sleep apnea. This occurs when the airway becomes blocked and you stop breathing temporarily. The blockage may be due to an oversized tongue, tonsils or uvula, an abnormal jaw or chin structure, or nasal polyps and congestion. When your brain notices you're not breathing, it rouses you just enough to relieve the blockage. These incidents can occur and end in seconds several times a night without you being aware of it.
This interrupts your normal sleep patterns, including the critical rapid eye movement (REM) of deep sleep that occurs at different times during the night. The results of not getting enough REM sleep are quite unhealthy: besides irritability and reduced concentration, poor REM sleep is linked to depression, headaches, decreased sex drive, acid reflux, high blood pressure or the onset of diabetes. Your night time experience — as well as your sleep partner's — won't be pleasant either as you may experience night time sweating and snoring.
Fortunately, sleep apnea can be treated. Our first considered treatment is a custom-fitted night guard you wear while you sleep that holds the tongue back from the airway. If your apnea is more severe, you may need to consider continuous positive airway pressure (CPAP) therapy, which uses a machine to pump pressurized air through a mask you wear while sleeping to force the airway open. You might also benefit from surgery to remove excess soft tissue obstructing the airway.
If you or your family has noticed any of these symptoms mentioned, make an appointment to see us — we're trained to look for oral signs in the mouth that may indicate sleep apnea. The sooner we can implement a treatment strategy, the sooner you'll begin experiencing a good night's sleep and better health.
If you would like more information on sleep apnea and what to do about it, please contact us or schedule an appointment for a consultation. You can also learn more about this topic by reading the Dear Doctor magazine article "Sleep Disorders & Dentistry."
By Sunshine Dentistry
October 11, 2017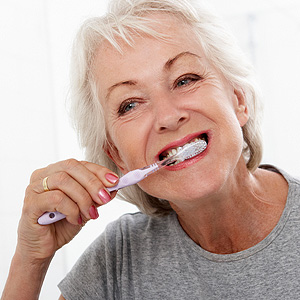 So, you've just acquired an attractive restoration with dental implants. You may be thinking at least with these teeth you won't have to worry about dental disease.
Think again. While the implants and their porcelain crowns are impervious to decay the surrounding gums and bone are still vulnerable to infection. In fact, you could be at risk for a specific type of periodontal (gum) disease called peri-implantitis (inflammation around the implant).
Bacterial plaque, the thin bio-film most responsible for gum disease, can build up on implant crowns just as it does on natural tooth surfaces. If it isn't removed with daily brushing and flossing and regular dental cleanings the bacteria can trigger an infection in the gums.
Besides weakening gum tissues, gum disease can also cause bone loss, of critical importance to dental implants. An implant depends on the bone they're inserted in to hold them in place. If the bone around an implant becomes infected it could begin to be lost or dissolve (resorb), which could lead to loss of the implant.
That's why it's critical to keep the natural tissue structures supporting your implants infection-free. Not only is daily hygiene a must, but your implants and any remaining natural teeth should undergo professional cleaning at least twice a year or more if your dentist recommends it.
Cleanings involving implants will also be a bit different from natural teeth. While the dental materials used in the crown and implant post are quite durable, regular cleaning instruments can scratch them. Although tiny, these scratches can become hiding places for bacteria and increase your risk of infection.
To avoid this, your hygienist will use instruments (known as scalers and curettes) usually made of plastics or resins rather than metal. The hygienist may still use metal instruments on your remaining natural teeth because their enamel can tolerate metal without becoming scratched creating a smoother surface.
While keeping implants clean can sometimes be a challenge, it's not impossible. Implants on average have a long-term success rate above 95%. With both you and your dentist caring and maintaining these state-of-the-art restorations, you may be able to enjoy them for decades.
If you would like more information on caring for dental implants, please contact us or schedule an appointment for a consultation. You can also learn more about this topic by reading the Dear Doctor magazine article "Dental Implant Maintenance: Implant Teeth must be Cleaned Differently."