Posts for: May, 2017
By Sunshine Dentistry
May 28, 2017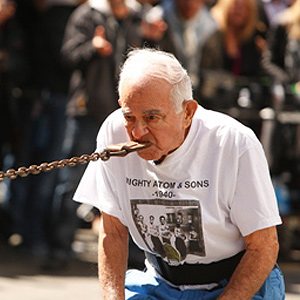 A recent episode of "America's Got Talent" featured an engaging 93-year-old strongman called The Mighty Atom Jr. The mature muscleman's stunt: moving a full-sized car (laden with his octogenarian "kid brother," his brother's wife, plus Atom's "lady friend") using just his teeth. Grinning for host Howie Mandel, Atom proudly told the TV audience that his teeth were all his own; then he grasped a leather strap in his mouth, and successfully pulled the car from a standstill.
We're pleased to see that the Atom has kept his natural teeth in good shape: He must have found time for brushing and flossing in between stunts. Needless to say, his "talent" isn't one we'd recommend trying at home. But aside from pulling vehicles, teeth can also be chipped or fractured by more mundane (yet still risky) activities — playing sports, nibbling on pencils, or biting too hard on ice. What can you do if that happens to your teeth?
Fortunately, we have a number of ways to repair cracked or chipped teeth. One of the easiest and fastest is cosmetic bonding with tooth-colored resins. Bonding can be used to fill in small chips, cracks and discolorations in the teeth. The bonding material is a high-tech mixture of plastic and glass components that's extremely lifelike, and can last for several years. Plus, it's a procedure that can be done right in the office, with minimal preparation or discomfort. However, it may not be suitable for larger chips, and it isn't the longest-lasting type of restoration.
When more of the tooth structure is missing, a crown (or cap) might be needed to restore the tooth's appearance and function. This involves creating a replacement for the entire visible part of the tooth in a dental lab — or in some cases, right in the office. It typically involves making a model of the damaged tooth and its neighbors, then fabricating a replica, which will fit perfectly into the bite. Finally, the replacement crown is permanently cemented to the damaged tooth. A crown replacement can last for many years if the tooth's roots are in good shape. But what if the roots have been dislodged?
In some cases it's possible to re-implant a tooth that has been knocked out — especially if it has been carefully preserved, and receives immediate professional attention. But if a tooth can't be saved (due to a deeply fractured root, for example) a dental implant offers today's best option for tooth replacement. This procedure has a success rate of over 95 percent, and gives you a natural looking replacement tooth that can last for the rest of your life.
So what have we learned? If you take care of your teeth, like strongman Atom, they can last a long time — but if you need to move your car, go get the keys.
If you would like more information about tooth restoration, please contact us or schedule an appointment for a consultation. You can learn more by reading the Dear Doctor magazine article "Crowns & Bridgework."
By Sunshine Dentistry
May 13, 2017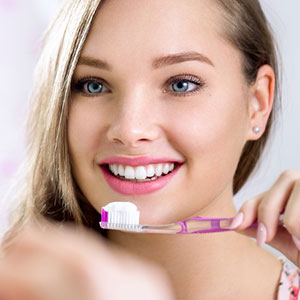 It's a big transition when your child enters college — for both of you. You may find "cutting the apron strings" a little rocky at times.
But like most parents, you'll soon condense what you still want your college kid to do down to a few major habits and choices. Be sure to keep health, diet and lifestyle choices on that list, areas which could have the most effect on their long-term health and well-being.
That should include dental care. Hopefully, they've already developed good hygiene habits like daily brushing and flossing and regular dental visits. But, on their own now, they're faced with other choices that could affect their dental health.
For example, eating a balanced, nutritious diet is necessary for a healthy mouth. That includes limiting sugar intake, especially when snacking. Disease-causing oral bacteria thrive on carbohydrates like sugar. These bacteria also secrete acid, which at consistently high levels can erode tooth enamel.
Tobacco smoking and excessive alcohol affect teeth and gums because both can inhibit secretion of saliva. Besides containing antibodies that fight infection, saliva also neutralizes mouth acid. A dry mouth caused by these habits, could put their mouth at higher risk for disease.
Your college student might also be influenced by the fashion of their peers to display piercings. Mouth piercings with lip or tongue hardware in particular can damage teeth. The constant movement and friction erodes enamel or may even cause a tooth fracture. If possible, try to steer them to self-expression that poses less risk to their dental health.
There's one other area that, believe it or not, could impact dental health: sex. While each family handles this particular subject differently, be sure your child knows that some forms of sexual activity increase the risk for contracting the human papilloma virus (HPV16). Among its many destructive outcomes, HPV16 profoundly raises the risk of oral cancer, a rare but deadly disease with a poor survival rate.
Going from home to college is a big step for a young person — and their parents. As a parent, you can help steer them to practice good habits and make wise choices that will protect their lives and health and, in particular, their teeth and gums.
If you would like more information on helping your college student maintain their dental health, please contact us or schedule an appointment for a consultation. You can also learn more about this topic by reading the Dear Doctor magazine article "10 Health Tips for College Students."